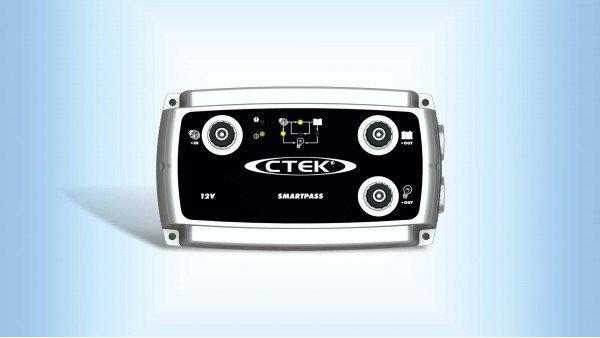 CTEK Smartpass [Power Management CTEK-Smartpass]
The CTEK Smartpass is a power management device.
This clever 'black-box' maximizes the utilization of alternator, solar and AC/DC charging devices, while protecting the house or service battery from over discharge.
Introduction
A common problem, especially with caravans and motorhomes equipped with three way fridges (gas, DC and AC) is trying to charge a house battery, from the vehicles alternator, whilst still running the fridge. Some three way fridges can draw up to 25 amps, so we have a situation where we are trying to quickly and efficiently charge a battery, while, at the same time, we are drawing power from it to run the fridge! The end result is usually a very under-charged battery with poor performance and service life.
The smartpass gets around this problem by supplying power to the user loads, directly from the alternator, while the vehicle is running. This enables the house battery to achieve full charge without supplying loads at the same time. When the vehicle is switched off, the smartpass then switches the loads to the house battery. A battery watch feature ensures that the house battery is not over discharged and damaged. Very clever!!!.
Of course modern vehicle alternators do not efficiently charge house deep cycle batteries, so the smartpass is designed to work 'hand in hand' with the CTEK D250 Dual DC-DC Charger.
Its main purpose is to bypass the D250S when the alternator is capable of supplying more than 20 A to the battery. (Modern vehicles drop the alternator voltage to just above 13 V and this is not enough to charge a battery.)
Overview
Available to work in tandem with the D250S Dual, SmartPass is a total energy regulator for energy production, usage and storage in any 12V DC system. Smart- Pass allows energy produced from solar, wind, AC chargers and alternators to be synchronised to maximise output and minimise charge time. The energy is then able to be distributed to different battery banks and/or equipment such as lights and navigational systems that need additional energy supply, while ensuring the battery remains fully charged.
SMARTPASS is an energy management unit which controls and optimises energy produced by alternators, solar cells, wind power or conventional AC/DC chargers. It distributes the power to the battery banks or consumers which require energy, such as the deep cycle bank, bow thruster batteries, consumers, etc.
Used together with a D250S DUAL, SMARTPASS provides optimal charging via CTEK's unique staged charging cycle, which also protects your batteries. SMARTPASS also has an integrated battery guard which protects deep cycle batteries from harmful total discharge and ensures that critical equipment such as radio, emergency lights and navigation systems always function. SMARTPASS has a temperature sensor which protects batteries against high temperatures.
SMARTPASS is a fully automatic energy management system which can handle up to 80 A for batteries between 28-800 Ah. The energy management system is IP65 classified (water jet and dust protected and approved for outdoor use). Suitable for all types of 12 V lead-acid batteries.
Features
Battery separation eliminates diodes and VSR relays.
Charging of service batteries up to 100 A, reducing recharge time.
Separation of energy-consuming equipment and service batteries during charging increasing the expected life of 12 V devices such as light bulbs, LEDs and other electronics.
Allows the battery to be charged from the alternator at a level that minimises recharge time [patent pending].
Temperature protection of services batteries reduces charge current at high temperatures [patent pending].
Benefits
Maximised battery life as a result of reduced incidences where the battery is undercharged.
Reduced charging times and costs by decreasing engine idling.
Reduced dependency on AC power onshore through efficient use of alternator and solar power.
Reduced environmental impact through extended battery life and a reduced idle time.
Minimal installation time and cost.
Integrated System
Combining the D250S DUAL and SMARTPASS ensures optimal battery charging. The SMARTPASS manages the energy transfer through the D250S DUAL, which then converts and produces the optimal voltage of 14.4 V, even if the alternator only produces 14 V.
Battery Watch Technology
CTEK's built-in Battery Watch technology allows the SMARTPASS to make full use of the majority of energy produced (up to 95 %) and distributes the power servicing battery banks, bow thrust batteries and electrical equipment such as navigational systems. The SMARTPASS, properly manages and distributes power, directing energy to where it is needed most. This ensures that service batteries are protected from being deeply discharged, providing batteries with an optimal service life and reducing the frequency and need for regular traditional charging.
Protection From High Temperatures
The SMARTPASS has a sensor which senses the battery temperature and reduces charge current at high battery temperatures.
Simplified Installation
The SMARTPASS eliminates the need for units with multiple outputs. All batteries can be charged and maintained through the unit. The SMARTPASS converts a 110/230 V charger with one output into a unit that serves both the service and starter battery.
Key Features
Handles inputs of up to 80A and battery capacity of 75 - 800Ah
'Battery Watch' battery and critical consumer protection
Temperature sensor
IP 65 rated - splash and dust proof
2 year Warranty
Key Technical Data
Input voltage: 12V (Max.22VDC)
Output voltage: 14.4V at 25 deg.C
Charging current: 80A
Back current drain: <1Ah/month
Ripple: <4%
Ambient Temperature: -20°C to +50°C , output power is reduced automatically at high temperatures
Batteries: Suitable for all types of 12V lead-acid batteries (Wet, MF, AGM and GEL).
Battery size: 28-800Ah
Dimensions (L x W x H): 192x110x65 mm (LxWxH)
Insulation: IP 65 (splash and dust proof)
Weight: 0.74 kg

CTEK Smartpass